Easy Franchise taps Rural Bank of Silay City to help Filipinos start their own business​
Easy Franchise has tapped Rural Bank of Silay City as its official partner in providing SME loans to help aspiring entrepreneurs make their dream business a reality. 
Officials of Easy Franchise and Rural Bank of Silay City signed a memorandum of understanding last October 2022 to seal the partnership. Present during the signing were Rural Bank of Silay City President Jove Tapiador, Rural Bank of Silay City Marketing and Business Development Consultant Liziel Villavicencio, Easy Franchise Managing Director Bubbles Lim, and Easy Franchise Co-Founder RJ Ledesma.
Rural Bank of Silay City will complement the assistance and mentorship provided by Easy Franchise with access to capital, which is one of the main challenges in starting a business.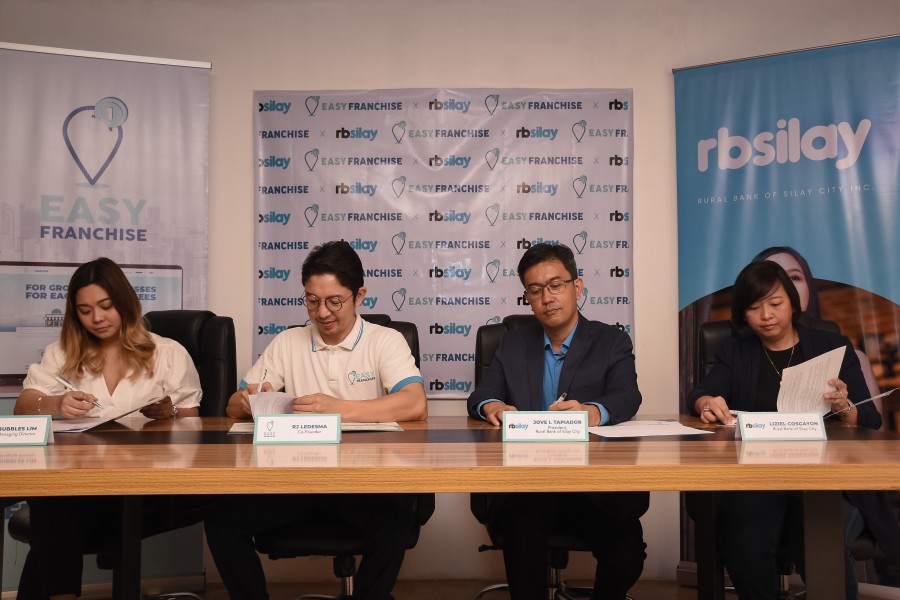 Interested franchisees can now set up their own business through Easy Franchise with minimal cash-out since they can avail of an SME Loan with Rural Bank of Silay City. Applicants can borrow up to PHP 300,000 with no collateral needed.
This partnership becomes even more important as Filipinos become more interested in entrepreneurship. A recent national survey conducted by private polling and research firm Octa Research and commissioned by non-profit GoNegosyo found that four out of five adult Filipinos would prefer to go into business if they have enough capital and mentors to help them become successful.
Rural Bank of Silay City, through its suite of GoodLoan products, is committed to helping bridge the financing gap that has long been a barrier to the growth of the country's micro, small- and medium-sized enterprises (MSMEs), considered the backbone of the Philippine economy. The bank believes that its digital financial solutions will help the MSME sector realize its potential to become a significant driver of economic growth and job creation.
Easy Franchise, an online platform that simplifies the franchising application process, helps potential franchisees make the right investment decision since they can choose from a list of franchises that can deliver their target return on investment based on the industry they prefer (food and beverage, retail and services) and their budget (PHP 50,000 to more than PHP 1 million). Beyond application, Easy Franchise also assists with the operation and growth of the business by providing mentorship and management assistance.